Calling all vampire fans! Ever wonder which vampire/supernatural creature would win in a battle between the most popular mainstream vampire series?
To find out once and for all, we're holding a first-ever Fantasy Bracket between the top eight female vampires/supernaturals in Twilight, True Blood, The Vampire Diaries, and Buffy the Vampire Slayer.
Do you have favorites in each series or are you rooting for just one person? We're having a fang-off between 2 ladies every week until we find out who reigns supreme! Celebrate Wikia's Witchy Week of Fantasy Bracket with Maryann of True Blood vs. Bonnie of The Vampire Diaries!
Week 3
Bonnie of The Vampire Diaries vs. Maryann of True Blood
Who should win Week 3 of Wikia's Witchy Fantasy Bracket?
Week 2 Results
Queen Sophie-Anne of True Blood is our Week 2 champion!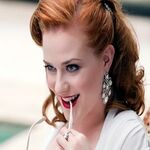 Week 1 Results
Caroline of The Vampire Diaries is our Week 1 champion!