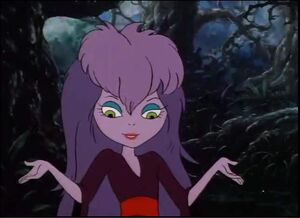 Sibella is the only vampire at Miss Grimwood's Finishing School for Girls, however, she enjoys rough sports as much as the other girls. She often makes puns on words related to vampires, such as "fangtastic".
She is often the one who runs errands, and is always happy to help. Sibella is close to both Winnie and Tanis.
She has long purple hair, light purple skin, red lips, and green eyes, and her outfit consists of a purple dress with a slit, red high-heeled shoes, and a red belt.
Her gift to her father was a "bat robe" (a pun on a bathrobe) and she also made one for herself, but fire-proof for Matches. Like many vampires, she can turn into a bat.
Sibella has a Transylvanian dollar to buy Shaggy and Scooby a pizza, and bought a pizza with everything on it ("except garlic, of course").
Like the other girls, she was kidnapped by Revolta and rescued by Shaggy, Scooby, Scrappy, and Matches. Sibella and the other girls later waved good-bye to Shaggy, Scooby, and Scrappy when they left the school. Water does not harm her, as she and the other girls took a swim in the moat.
Sibella appeared in the movie Scooby Doo and the Ghoul School (1988) and was voiced by Susan Blu.