Jurassic World: Dominion Dominates Fandom Wikis - The Loop
Play Sound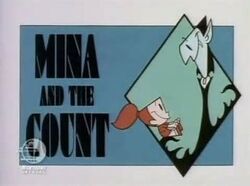 Mina and the Count is an animated television series created by Rob Renzetti, which was never brought into development as a full-fledged animated TV series. Instead, animated shorts of this series aired on the two animation anthology showcases, Cartoon Network's What a Cartoon! and Nickelodeon's Oh Yeah! Cartoons. Despite much demand by fans to get it shown as an official series, Frederator Studios president Fred Seibert confirmed there is currently no development of the show as a whole whatsoever.
The original Mina and the Count pilot short, "Interlude with a Vampire," premiered on The What-a-Cartoon! Show on Cartoon Network in November 5, 1995, making it the only short to be featured on both creator-guided short projects guided by Fred Seibert. The short was about a seven-year-old girl named Mina Harper (a play on Draculacharacter Mina Harker) and her encounters with a vampire during a night that she is sleeping (the count had accidentally found her when he was looking for "Nina Parker," another reference to the Dracula character). The aforementioned further episodes concerned the vampire, known simply as Vlad the Count , his friend Mina, her older sister Lucy, school bully Nick, Mina's father Mr. Harper, a handful of monsters and Vlad the Count's strict servant Igor.
Characters
Count Vlad - A 700 year old vampire.
Igor - Vlad's servant who believes that no self-respecting vampire would play with a little human girl.
Mina Harper - A little human girl who befriended Vlad after he went to the wrong address.
Nick - A school bully who picks on Mina.
Lucy Harper - Nina's sister who develops a crush on Vlad in one episode. She is never seen again.
Mr. Harper - Parental figure of Mina who is unaware of Vlad's dealings with Mina, and only knows her as an "old violin teacher".
Episode list
Note: The original pilot aired on What-a-Cartoon!, and the rest were animated shorts that aired on Oh Yeah! Cartoons.
Interlude with a Vampire
The Ghoul's Tribunal
The Vampire Who Came to Dinner
Playing a Hunch
My Best Friend
FrankenFrog
Trivia
Mina Harper's name is, of course, a direct reference to Mina Harker, who resisted Count Dracula 's transforming bite and helped track down Dracula.

Her sister Lucy is also a reference to Lucy Westenra, who was turned into a vampire by Count Dracula before Mina, but did not resist.
Gallery