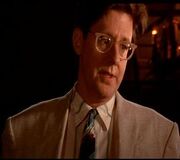 Max is a vampire and one of the antagonist in the movie The Lost Boys. Throughout the movie he can hide his vampiric characteristics and fooled the protagonists to thinking he's normal.
Max met the protagonists when Lucy started working in his video shop, the mother of Sam Emerson. They dated and Lucy invited him for dinner. The only people who suspected him as vampire are the Frog Brothers, and during the night they ran a series of tests to see if he really is a vampire.
In the tests the brothers tried to see if he has reflection, and he did had, much to the Frog Brothers' expectations. They try using garlic, but it too failed. In the end the brothers were convinced and Max is finally welcomed to the house, giving him invitation to go inside anytime he wanted.
In the end scene he proclaims to Lucy that all he wanted was her to be a "mother" for his "lost boys" and
inviting vampires renders them powerless
. He shows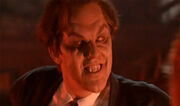 his true form and attacks Lucy, but Grandpa crashed his jeep and impaled Max on wooden fence posts he is carrying.