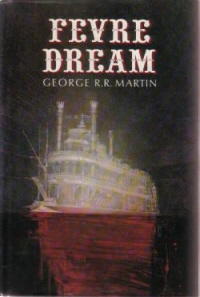 Fevre Dream is a 1982 vampire novel, set in an antebellum Missisipi, by George R. R. Martin, author of the noted swords and sorcery epic "A Song Of Ice And Fire".
In 1857 Abner Marsh, owner of the failing Fevre River Packet Company, is contacted by Joshua York, who offers to fund the construction of a new steamship, the Fevre Dream. Marsh accepts and allows York to join him as co-captain. However, York and his associates are never seen in daylight hours, leading to talk among the suspicious crew. York claims to Marsh that he and his friends are vampire hunters but it is revealed that they are vampires, albeit ones with a noble intention: to cure their fellow vampires of their thirst for blood via a special potion.
Rival vampire Damon Julian boards the Fevre Dream and overpowers York and removes Marsh, who spends the rest of his fortune searching for the Fevre Dream before joining the navy in the American Civil War. However, a letter from York leads them both to a final confrontation with Julian, with Marsh finding the Fevre Dream in the process.
It is implied that York was successful in curing all vampires from bloodthirst and that decades later, they still make pilgrimages to the grave of Abner Marsh.
External Links
Edit