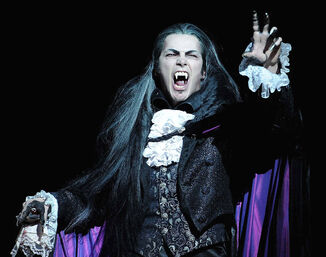 Count Von Krolock (Graf Von Krolock in German) is a character originally created by Gérard Brach and Roman Polanski in the film The Fearless Vampire Killers (Dance of The Vampires in the UK) and later starred in the Austrian musical Tanz der Vampire, written by Michael Kunze. In the original Austrian cast, he was portrayed by Steve Barton.  
Count Von Krolock spends a lonely and melancholy life in an old castle on the mountains, in the company of his son Herbert and his servant Koukol. The numbness and loneliness of his existence is interrupted only at the annual dance of the vampires when the undead come to life in the cemetery and the castle lives again, for one night, its former glory. In the course of the events narrated, Von Krolock leads to his castle the young Sarah, hoping to drink her blood at the ball and turn her into a vampire. His plans, however, are hampered by Professor Abronsius, decided to fight the plague of vampirism, and his assistant Alfred, who is in love with Sarah. The two in fact manage to take away Sarah, but they will end up victims of the girl, because she was turned into a vampire by the Count. 
Appearance
Von Krolock is a tall, imposing and well-built man with long, black hair with grey streaks and vivid blue eyes.
Personality
The first version of the character, played by German actor Ferdy Mayne in the 1967 film The Fearless Vampire Killers is a clear parody of Christopher Lee's Dracula and embodies, with some irony, the typical stereotypes of cinematic vampire (a charming middle-aged nobleman who seduces young girls). He's a relatively minor figure in the film, where he appears as a simple antagonist. However, in the next version of the story, the German musical Tanz Der Vampire, he becomes the protagonist. In the musical the character tends to a black melancholy, sometimes interrupted by outbursts of passion and aggressivity, in which emerges a profound existential pessimism (explained by songs like Gott ist Tot or Unstillbare Gier, in which the soul of the character is clearly revealed). Unlike the film version, they also took away all the "lighter" and parodistic traits of the character. However the numerous theatrical performers did not introduce significant changes in the character. In the American version of the musical, Dance of The Vampires (inspired by the original German musical but extensively rewritten) Giovanni Von Krolock is played by Michael Crawford. In this version he's an Italian nobleman, and the character loses all its darker sides to become a more explicitly comic figure.